Now this is seriously a personal favorite!
Ingredients:
4 lbs. Butternut Squash
5 tbsp Unsalted Buter
3 large leeks, chopped
2 1/2 cups Vegetable Stock
1 8oz package of Sour Cream
1 tsp Cinnamon
1/4 tsp Nutmeg
Salt
Pepper
Preparation:
Preheat your oven to 350 degrees. Cut your butternut Squash in half, lengthwise, and remove all seeds. Brush the flesh sides of the squash with Olive oil, place them on a cookie sheet and let them bake for 45 minutes.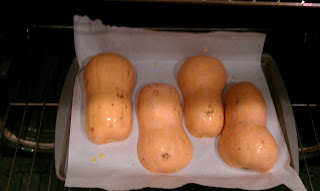 Cut your leeks, lengthwise as well, and clean them thoroughly! Once they're clean, you will pretty much want to mince your leeks to the best of your ability. Using just a tablespoon of butter, saute your leeks until they're soft, over medium heat, in the pot where you plan to finish the soup.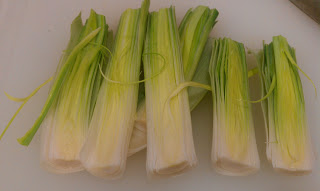 Once your leeks are done, remove them from the heat, and wait for your squash to get soft in the oven. Test the squash by using a fork to poke through the skin. Once the squash is done, pull them out of the oven and let them cool for about 10 minutes. Now, you want to use a spoon to scoop the squash out of the skin and add it to the pot with your leeks. Add the remaining butter and vegetable stock and cook over medium/low heat to simmer.
Now that your soup has begun to simmer, you can use an immersion blender to liquify the leeks and any squash that hasn't broken down. If you don't have an immersion blender, feel free to use your standing blender or food processor. Take your smooth soup mixture and add it back to the pot over medium heat. Add the cinnamon, nutmeg and sour cream. Season it with salt and pepper to taste! Now, you have a delightful comforting Fall or Spring soup!