This was a very easy and fast recipe. If you are looking for a 30 minute meal, this is it. This is a delicious meal which can be made for your family after a busy day at work and/or car pooling. Add potatoes or rice and a quick green vegetable or salad; and you have a meal. Your family will be so pleased. (Note: if you buy your mushrooms in advance DO NOT wash them until you are ready to use them. Mushrooms are made of water and they will start to break down when washed and they will go bad, quickly.)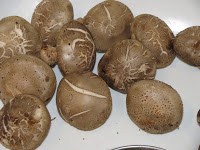 Ingredients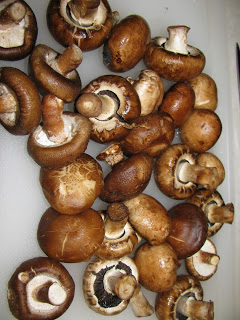 1/2 cup all-purpose flour
1 tbsp creole house blend
2 lb chicken boneless, skinless breasts, cut in halves and pounded thin
1 tbsp olive oil
4 tbsp butter
3 cups sliced mushrooms (cremini, oyster, shiitake)
3/4 cups Marsala wine
1 cup chicken stock
Salt and freshly ground pepper
Chopped chives, for garnish
Preparations
In a freezer or storage bag, combine the flour and creole house blend and shake bag to combine, thoroughly. Put chicken breasts in the seasoned flour and shake until coated. Shake to remove excess flour.
Heat oil and 1 tbsp of the butter in a large skillet over medium-high heat. Cook the chicken breasts until golden brown on both sides, about 3 minutes per sides. Transfer to plate and set aside. Add another tbsp of butter and add the mushrooms. Cook, stirring frequently, until mushrooms are brown and have given off their liquid. Add the Marsala wine and bring to a boil, scraping any brown bits from the bottom of the pan. When the wine has reduced by half, add the chicken stock, and cook for 3 minutes, or until the sauce has thickened slightly. Lower the heat to low and return the chicken breasts to the pan and continue cooking until they are cooked through and the sauce has thickened about 5 to 6 minutes. Stir in the remaining 2 tbsp of butter, add salt and pepper, to taste. Garnish with chopped chives and serve, immediately.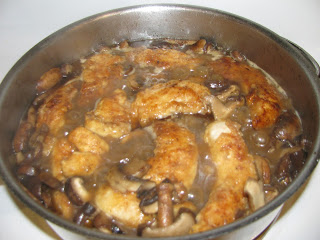 It's fast and fabulous! Bon Appetit!!