Remember, this is a series for lovers; so let's continue with the salad. This is a great salad as it is simple but very tasty. We often make great salads and, then, drown them in store-brought dressings. Homemade salad dressings are the best as preservatives and artificial flavors are limited. It's simple to make and it makes this salad "pop" with flavor.
Asparagus, some claim that people who eat asparagus have many lovers; others think it's just the phallic shape of the spears that suggest sexuality. What we do know is that asparagus is packed with vitamin E, which can help boost sexual stamina and performance.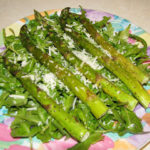 Ingredients
Ingredients

4 cups Baby arugula leaves, loosely packed

8 Asparagus spears

2 Tbsp Extra virgin olive oil

1 Tbsp Balsamic Vinegar

1 tsp Dijon mustard

1/8 tsp Kosher salt

1/8 tsp Black pepper

1 Tbsp Parmesan cheese, grated
Instructions
Preheat oven to 400 degrees.
Snap off tough ends of asparagus and toss with about 1/2 Tbsp of the olive oil on a baking sheet lined with parchment paper lined aluminum foil. (Whenever foil is needed, you'll always see parchment paper lining the foil or parchment paper lined foil, if you can find it, throughout our blog. Aluminium foil is toxic and should never have direct contact with your food. It's great for containing heat but don't let it touch your food.)
Lay spears in a single layer and sprinkle with salt and pepper. Roast until tender crisp and slightly charred about 5 - 10 minutes depending on the thickness of the spears.
While asparagus is roasting, combine Dijon mustard, balsamic vinegar, and slowly whisk in the remaining olive oil until the dressing emulsifies. Salt and pepper to taste. (Emulsify means combining two ingredients that don't easily mix by slowly adding one ingredient into another while whisking rapidly. This will disperse and suspend one ingredient into the other.  The ingredients will soon separate unless a third ingredient is added called an emulsifier, which stabilizes the mixture. In this case, it's the mustard.) 
To serve toss arugula with dressing and divide evenly between the two plates.  Top with asparagus spears, sprinkle cheese on top, and serve immediately.
Bon Appetit! This Fabulous salad is a great addition to any meal.