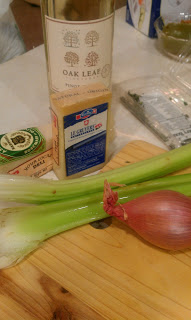 This Cauliflower Risotto reminds me of rich and creamy macaroni and cheese using the best cheese money can buy. A great risotto is the ultimate comfort food. Just imagine, cheesy risotto, a glass of wine, and a good book or a good movie.
Ingredients:
6 cups low-sodium chicken or vegetable broth
1 tablespoon extra-virgin olive oil
1 large shallot, minced
2 celery stalks, minced
1 cup Arborio or Carnaroli rice
1/2 cup dry white wine, such as Pinot Griglio
1 cup Cauliflower Puree (prepare before risotto and set aside)
1 teaspoon minced fresh thyme leaves
coarse salt and ground pepper
Grated Gruyere
Grated Asiago with Rosemary
Preparation:
In a medium saucepan, bring broth to a simmer, reduce heat and keep warm.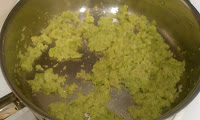 Meanwhile, in a large heavy-bottomed skillet or pot, heat oil over medium-high. Add shallot and celery, reduce heat to medium, and cook, stirring often, until vegetables are soft, 10 minutes. Add rice and stir to combine. Increase heat to medium-high and add wine. Cook, stirring, until almost evaporated, 1 minute.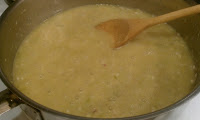 Add 1/2 cup broth to skillet. Cook, stirring constantly, until broth is almost absorbed. Repeat, gradually adding broth 1/2 cup at a time and stirring constantly, until rice is tender but still al dente and sauce is creamy (you may not need all the broth), 20 to 25 minutes. Add puree and thyme and stir to combine. Remove from heat and season to taste with salt and pepper. Add 1/8 cup Gruyere and 1/8 cup Asiago with Rosemary and stir to combine. Serve immediately.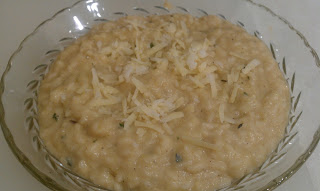 Cauliflower Puree
Set a steamer basket in a saucepan with 2 inches simmering water. Add 1 large head cauliflower, cored and cut into florets; cover and steam until very tender, 18 minutes. Transfer cauliflower to a food processor and season with coarse salt and ground pepper. Add 1/4 cup warmed low-sodium chicken or vegetable broth and process until smooth, scraping down side as needed (add more broth for a thinner consistency, if desired; to store, refrigerate puree in an airtight container, up to 3 days.) To serve, transfer to a bowl, season to taste with salt and pepper, and drizzle with 1 teaspoon extra virgin olive oil. Makes 2 1/2 cups. Note: the risotto recipe calls for 1 cup of the puree; however, feel free to use it all in the risotto.