Now I must say, I am not a huge fan of eggplant but this recipe has truly changed my mind! OMG! The fried eggplant flavor combined with the ground lamb was simply amazing!
Ingredients:
4 large eggplant, peeled and sliced length wise about 1/4 inch thick
3 cups flour
3 eggs beaten w/ 2 tablespoons milk
3 cups fine dried Italian style bread crumbs
House Blend (add link)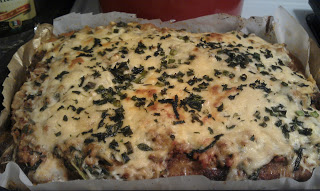 1 cup extra virgin olive oil and more for frying
2 lbs ground lamb
1 white onion, chopped
1 green bell pepper, chopped
1 jalapeno, minced
6 garlic cloves, minced
1 jar of your favorite spaghetti sauce
1 can diced petite tomatoes
2 bags shredded mozzarella cheese
2 bags shredded Parmesan cheese
1 tablespoon fresh oregano, minced
1 tablespoon fresh basil, minced
Preparation:
In a large fryer, add enough olive oil to completely cover about 3 – 4 slices of eggplant. Heat your oil to about 350 degrees. Season your eggplant slices and flour. Dip each slice in the egg wash, letting the excess drip off. Then dredge the eggplant in the bread crumbs, coating completely. When the oil is hot, fry the eggplant for about 6 minutes or until golden brown. Remove and drain on paper towels. Fry the eggplant in batches.
Over medium heat, warm olive oil in a large sauce pan. Add onion, bell pepper, jalapeno and garlic and cook until the veggies are soft. Next add your ground lamb and cook until brown, stirring occasionally. Once brown add your can of tomatoes and your spaghetti sauce. Season with the House Blend and Italian seasoning. Cook over medium heat until hot and reduce and let simmer for 10 minutes. Preheat your oven to about 375 degrees. Line a deep-dish (11 by 14) lasagna pan with parchment paper.
To assemble, cover bottom of pan with sliced eggplant. Top with lamp sauce, and spread shredded cheese on top of the sauce. Repeat this process with the remainder of the eggplant, sauce and cheese, ending with cheese as the last layer, add your fresh basil and oregano to the top. Bake for 45 minutes or until golden and bubbly. Remove from the oven and let cool for about 10 minutes!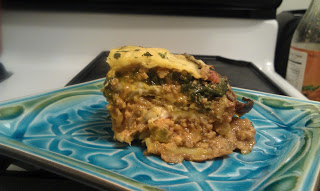 Eat Fabulously!