I love frittatas because not only are they delicious, they are easy to make and very versatile. You can use any vegetable and/or meat combination that you desire; whatever you have on-hand in your fridge.
The different vegetables, meat, cheese combinations will give it a totally different flavor each time. Experiment and this entrée your own.
It makes a great addition to any brunch menu. It is a great make-ahead dish. I usually make this recipe for my husband and I on the weekend and we eat it for breakfast during the week.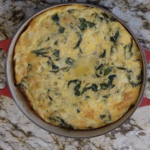 Ingredients
10 eggs

2 cups of Spinach

1½ cups of canned Green Chilies

¾ cups of chopped Onions

1 cup of Heavy Cream or Half & Half

2 cups of shredded Swiss Cheese

1 Tablespoon of Salt

1 teaspoon of Black Pepper

1 Tablespoon of Olive Oil

1 Tablespoon of unsalted Butter
Instructions
Pre-heat oven to 350 degrees.
Wisk the eggs and the heavy cream, add a little salt and pepper, and set it aside.
In cookware that goes from the stove top to the oven, over medium heat, add the olive oil and butter.
After the butter melts, add chopped onions and cook until translucent about 3 – 5 minutes.
Add spinach in batches; 2 cups seems like a lot but spinach wilts down quickly. As it wilts down add more until all remaining spinach is incorporated. Add the green chilies. You can add the spinach and green chilies in any order you like. Cook the veggies for another 3 minutes until the green chilies are thoroughly warmed.
Wisk the shredded cheese into the egg mixture.  You can use any type of cheese you like. Add the egg mixture to the veggies and mix well.
Bake it for about 50 minutes or until the eggs are done. Voila! You have delicious breakfast.