This is a great recipe that gives you the taste and satisfaction of Gumbo without the work!




Ingredients:
1 pound andouille or kielbasa, sliced into 1/3 inch rounds
1 red onion, sliced into wedges
3 garlic cloves, minced
2 celery stalks, chopped
1 red or green bell pepper, chopped
1 can (28 ounces) diced tomatoes
1 teaspoon cayenne pepper
salt
1/2 pound large shrimp, peeled and deveined
2 cups frozen cut okra, thawed
1 tablespoon olive oil
Preparation: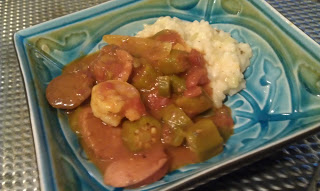 In a 5 to 6 quart slow cooker, place sausage, onion, garlic, celery and bell pepper. Sprinkle with olive oil and toss to coat. Add tomatoes and their liquid, 1/2 cup water, and cayenne; season with salt. Cover and cook until vegetables are tender, 3 1/2 hours on high (7 hours on low). Add shrimp and okra, cover and cook until shrimp are opaque throughout, 30 minutes.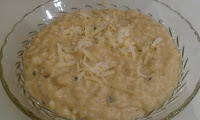 For this recipe, just add 1 1/4 teaspoon white truffle oil just before you add your cheese! This provides for a burst of flavor and amazing textures to go with your Cajun Stew!