This is a quick easy recipe if you need a delicious dessert to feed dinner guests or a group of friends.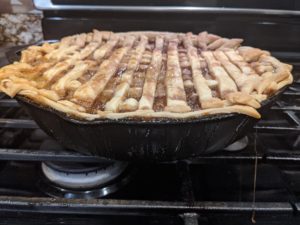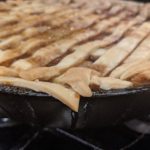 Ingredients
3 large 29 oz. cans of sliced peaches in heavy syrup

2 boxes of pie crusts (2 pie crusts rolled up in each box)

1 cup of butter (2 sticks)

1 cup of granulated sugar

1 cup of light brown sugar (packed)

1 TBL Cinnamon

1 tsp. of Nutmeg

2 tsp. Pure vanilla extract

¼ tsp. almond extract

¼ tsp. lemon extract

¼ tsp. coconut extract

2 tsp. orange liqueur
Instructions
Preheat oven to 350 degrees Fahrenheit.
Mix all of the ingredients (except the pie crust of course) in a large dutch oven over medium heat. Bring to boil and reduce heat to low to simmer for 20 – 25 minutes.
While the peaches are simmering, prepare the crust. Butter a large pre-seasoned cast iron skillet (preferably, 15" – 20" inches). Rollout the dough of one of pie crust and lay in the skillet so that the pie dough covers one side of the skillet. One pie crust will not cover the entire skillet. Then rollout the second pie crust and cut it in 3 separate pieces to fit cover the rest of the skillet. Cut slits in the bottom of the crust to prevent it from rising while in the oven. Put it in the oven for about 15 – 20 minutes. Bake the crust a few minutes before adding the filling to prevent a gooey uncooked pie crust. Remove the pie crust from the oven.
Remove the peach filling from the heat. Ladle the peach filling over the pie crust. Fill the skillet to the top.
Rollout the pie dough from the 2nd box of pie crust. Cut into strips and lay them across the skillet over the pie filling until all available-sized strips are used. Rollout the other pie dough and cut into the same size strips and lay across in the opposite direction giving it the lattice effect.