In the spirit of Asian cooking, I decided to try this Vietnamese Calamari Herb Salad. It's a very healthy option. It's made with fresh herbs instead of your traditional lettuce. You use mint, basil, dill, flat-leaf parsley, and cilantro leaves. And it's topped with lightly fried calamari with homemade salad dressing. Doesn't that sound delicious?! I made this salad, last night, and it was delicious. If you like Vietnamese food, you'll love this salad. It makes a lot so invite friends to experience this incredible salad. The flavors of the different herbs blended together very well. I've had each of these herbs in other salads but never all together without lettuce.
Also, you have to become accustom to the smell of fish sauce. I use fish sauce as an ingredient in cooked Asian dishes so you don't smell it. The dressing was perfect for salad; it helped blend the different flavors of the herbs. The celery, cashews, and calamari added delicious crunch.
Note: It serves 8 as a first course, but it serves 4 as an entree; give yourself some time as it takes about 1.5 to 2 hours to prepare.
Ingredients
3/4 cup fresh lime juice (3 – 4 large limes)
2 Tbsp sugar
1/4 cup Thai or Vietnamese fish sauce
1 each red and green jalapeno chiles, seeds and ribs removed and minced
2 cups each loosely packed mint, basil, dill, flat-leaf parsley, and cilantro leaves
1/2 cup chopped red onion
1/2 cup sliced celery (1/4 inch thick)
1 cup salted whole cashews
4 cups vegetable oil
1 lb cleaned fresh or thawed frozen squid tubes and tentacles (Asian markets if not found in local grocers)
1/2 cup each all-purpose flour and rice flour (rice flour can be found in Asian markets or Asian section of your local grocery store)
1 tbsp creole house blend or to taste
1/4 tsp cayenne pepper
Preparations
Dressing: In a small bowl, combine lime juice, sugar, fish sauce, and chiles. Set dressing aside.
Herbs: In a large serving bowl, combine mint, basil, dill, parsley, cilantro, onion, celery, and cashews. Set aside.
Calamari: In a 4-qt pot about 10 inches in diameter, heat oil until it registers 360 degrees on a deep-fry thermometer. (I didn't realize how important it is to use a thermometer when deep-frying. Reaching the right temperature ensure that your food doesn't cook to fast on the outside before the inside is cooked, thoroughly. They are relatively inexpensive; it's a good investment.)
While the oil is heating, prepare thawed squid for frying. (In my cooking class, last week, the instructor mentioned that meat and seafood should not be washed (rinsed) before cooking. He explained that rinsing washes away the flavor. Although, he might be right, I rinse because I don't know how my food was handled during the packaging process. I would hope the persons handling the food prepares it in a clean environment, however, since, I don't know, I rinse. I guess I'm OCD, in that regard. Sorry.)
In a gallon freezer or storage bag, combine all-purpose flour, rice flour, creole house blend and cayenne pepper. Drop squid pieces into flour mixture. Shake the bag until coated; shake off any excess before frying.
Working into batches, fry squid 4 – 5 minutes per batch, until pieces are curled and light brown. Using a slotted spoon, transfer fried calamari to large plate lined with several paper towels and sprinkle lightly with salt to taste. Allow oil temperature to return to 360 degrees between batches.
Add warm calamari to herb mixture, pour a little dressing on at a time, and toss gently just until coated.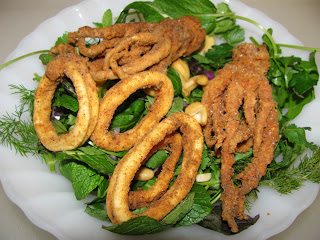 You're going to love this fresh salad; a great way to use fresh herbs. Bon Appetit! It's Fabulous!