I first stumbled upon this delicious dish in a restaurant where I worked, and due to the distinct nature of the cheeses, subsequently, fell in love!
Ingredients:
1 lb Linguini
2 Tbsp Olive Oil
4 oz Panchetta, Bacon or Turkey Bacon
2 Large Eggs
1 Cup Freshly Grated Parmigiano-Reggiano
Fresh Ground Black Pepper
1/4 cup Fresh Parsley
3 cups Whipping Cream
1 lb Grilled Chicken
Preparation:
Since its pasta we're making, go ahead and bring a pot of water to a boil with olive oil and a little bit of salt. Cook your pasta about 9 minutes until its Al Dente. You don't want it too soft because we still have to cook it a little longer in the sauce. Drain your pasta but do not rinse it!
The first thing is to cook your bacon. So grab a sauce pan, add olive oil and cook a package of bacon or panchetta over medium heat until it is crisp!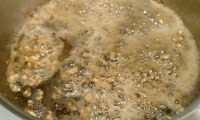 Once your bacon is finished, remove it from the saucepan, add your garlic to the saucepan, and saute for about 1 minute or until it is lightly browned.
Add your cooked pasta to the sauteed garlic and coat it with the garlic and olive oil for flavor!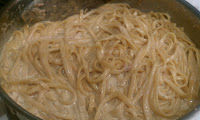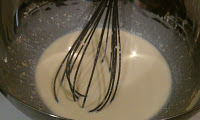 In a separate mixing bowl, beat your eggs and parmesan cheese together (I actually added about a tbsp of Gruyere and a tbsp of Rosemary Asiago for a bit of flavor). To prevent clumping, add the whipping cream and continue mixing. Once your sauce is thoroughly mixed, remove your saucepan from the heat and add your sauce to the pasta!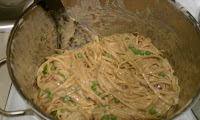 Crumble your bacon into small pieces and add it to the pasta along with the peas. Return your saucepan to Low-Medium heat and stir constantly to avoid any burning. Do this until your peas are done and you have the desired consistency.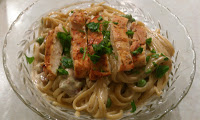 On the side, season your chicken breasts with our
House Blend
, and grill them over medium heat for about 10-15 minutes. Once they are fully cooked, cut them into thin slices and serve on top of your pasta.
Add some freshly ground pepper and fresh minced parsley and serve Fabulously!