This is a delicous cheesecake and it's a little different from your traditional cheesecake, which is a little dense. The mascarpone cheesecake is soft; therefore, you have to handle it with care. It has to be refrigerated for, at least, 8 hours; so, it's probably a good idea to make it a day ahead of time. It is well worth the wait. As we promote healthy eating, you don't want to indulge everyday; but, we must feed our cravings, sometimes, to prevent binging. We served it with a hazelnut chocolate sauce drizzled on top. Hmmm……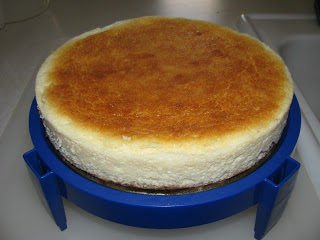 Ingredients
Crust:
1 cup slivered almonds, lightly toasted
2/3 cup graham cracker crumbs
1 Tbls unsalted butter, melted
Filling:
2 (8 oz.) package cream cheese, room temperature
2 (8 oz.) containers mascarpone cheese, room temperature
1 1/4 cups sugar
2 tsp fresh lemon juice
1 tsp vanilla extract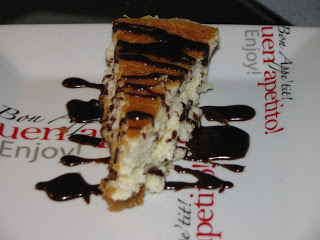 4 large eggs, room temperature
Topping:
1/2 cup chocolate-hazelnut spread (recommended: Nutella)
1/4 cup whipping cream
Preparations
For the crust: Preheat oven to 350 degrees.
Tightly wrap the outside of a 9-inch springfoam pan with 2 3/4 inch-high sides with 3 layers of heavy-duty foil. Make sure the foil is wrapped tight because the pan will be sitting in hot water while baking and you want to prevent the water from seeping into the pan. Finely grind the almonds, cracker crumbs, and sugar in a food processor. Add the butter and process until moist crumbs form. Press the almond mixture onto the bottom of the prepared pan (not on the sides of the pan). Bake the crust until it is set and beginning to brown, about 12 minutes. Cool. Decrease the oven temperature to 325 degrees.
For the filing: Take out your electric mixer to beat the cream cheese, mascarpone cheese, and sugar in a large bowl until smooth, occasionally scraping down the sides of the bowl with a rubber spatula. Beat in the lemon juice and vanilla. Add the eggs, one at a time, beating just until blended after each addition.
Pour the cheese mixture over the crust in the pan. Place the springform pan in a large roasting pan. Pour enough hot water into the roasting pan to come halfway up the sides of the springfoam pan. Bake until the center of the cheesecake moves slightly when the pan is gently shaken, about 1 hour and 5 minutes (the cake will become firm when it is cold). Transfer the cake to a rack; cool for 1 hour. Refrigerate until the cheesecake is cold, at least, 8 hours and up to 2 days.
For the topping: Combine the chocolate-hazelnut spread and cream in small bowl. Heat in the microwave until warm, stirring every 20 seconds to blend, about 1 minute. If you're not serving the cake immediately after making the sauce, you'll have to reheat it as it gets stiff when it cools.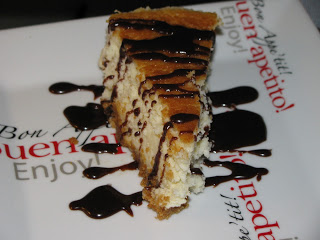 Bon Appetit!!! It's Fabulous!!