Last week, I felt like Asian food. So, I searched for ideas and found a great comfort food dish. Since, I'm currently watching my weight, I wouldn't eat this, regularly. If you're craving something comforting with a little kick, this is the dish for you, especially if you like curry and coconut milk. It was kind of habit-forming. I had to back away from the table.
Ingredients
1 1/2 tsp peanut or other vegetable oil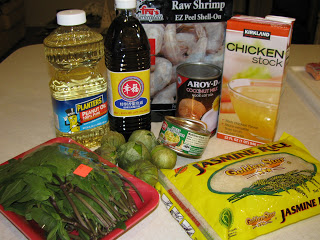 1/2 cup thinly sliced onions
4 green onions (scallions) cut into 2-inch pieces
1 – 2 Tbls store-brought Thai green curry paste
1 1/2 Tbls Thai fish sauce
1 tsp sugar, or to taste
2 cups chicken stock low-sodium broth
1 cup canned unsweetened coconut milk
1/2 cup diced fresh tomato, green tomatoes or tomatillos
1 lb raw shrimp, peeled 20 – 30 count
Salt and freshly ground black pepper
1/2 cup Thai basil for garnish
Asian Rice Noodles or
Jasmine Rice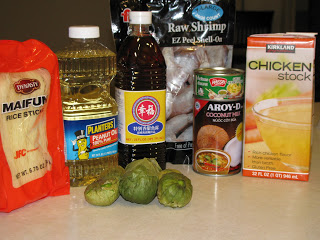 Preparation
Heat oil in a large pan over medium-high heat and add the onions. I purchased a new wok for my Asian/Stir-fry cooking and was anxious to use it. Stir-fry for 2 minutes. Reduce the heat medium and add the green onions and 2 Tbls of the green curry paste. Stir until the vegetables are coated with the paste and give off a fragrant aroma, about 1 minute. Add the fish sauce, sugar, chicken stock or broth, and coconut milk (Yum).
Add tomatoes or tomatillos. (I am fortunate to live very close to a great market where I purchase all of my produce, meats, and spices; it's like a Whole Foods but cheaper and the food is just as fresh.) So, I used tomatillos; they are little tomatoes wrapped in a very thin skin that you remove before cooking.
They also make a great salsa but that is another recipe. Okay, back to this recipe. Boil for 2 minutes after adding the tomatillos, then add the shrimp and cook 2 minutes more or until pink and firm.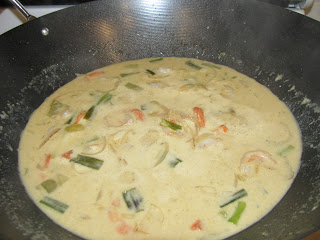 Transfer curry mixture to serving bowl and garnish with the Thai basil and lime wedges. You may squeeze the lime juice over the Thai Shrimp Curry for a little taste of citrus. Serve over Jasmine rice or Thai rice noodles.
Certain types of curry paste can be spicy so start with less and add to taste. Always use fresh tomatillos or slightly hard or out-of-season tomatoes; never use canned tomatoes.
Garnish with Thai basil, coarsely chopped. You can substitute with cilantro if you can't find Thai basil. It's not easy to find. I found it in an Asian market. We have a great and easy recipe for Thai basil so it won't go to waste. That will be posted soon so stay tuned.
When you taste this Thai Shrimp Curry, you'll think you're a gourmet chef. It's fabulous!