Now this is a fun, fresh alternative to the usual omelet or scrambled eggs!
Ingredients:
7 Eggs (beaten)
1/4 Cup Milk
2 Cups Spinach
1 Shallot (chopped)
1/2 Bell Pepper (chopped)
1 Jalapeno (chopped)
7 strips of Bacon (we used Turkey Bacon, you can also add sausage if you prefer.)
Finely Shredded Italian Cheese
Feta Cheese
Once the above veggies have cooked, add the spinach and cook until soft. Stir constantly to prevent burning.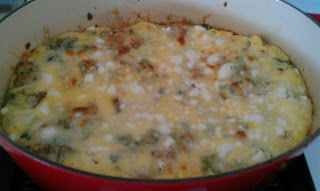 Once most of the Frittata has cooked underneath, but not burned, add a thin layer of the shredded cheese of your choice (we used an Italian blend) and a little Feta cheese (if you are feeling creative, add some diced olives with the Feta Cheese to give it an awesome Mediterrean flavor!). Put your Frittata in the oven, on the middle rack for about 5 minutes for a nicely browned and fluffy end result!
You can cut it like pie or pizza and serve it with salsa, sour cream, and/or guacamole. We have great recipes salsa and guacamole as well, so stay tuned!! Serve while its still warm and we promise everyone will enjoy your new breakfast alternative.