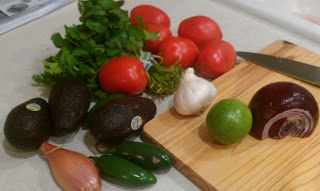 Guacamole Ingredients:
2 Medium Tomatoes
1/2 Red Onion
1/2 Bundle of Cilantro
1 Jalapeno
2 Cloves of Garlic
Juice from 1/2 Lime
3 Avocadoes
1 tsp Olive Oil
1/2 tsp Cumen
1/2 tsp Garlic Powder
1 tsp Sea Salt
1/2 tsp Ground Red Pepper
Mash avocadoes with a potato masher, and combine and mince all other vegetables in the food processor. Add the minced the vegetables to the mashed avocadoes and mix until evenly incorporated. Add the seasoning and mix well. Now, grab some chips and taste it a few times just to make sure it's seasoned to your taste! Then, add the lime juice and olive oil, mix it and POW! We've got Guac (I said, we, because once you finish making it, I'll probably be enroute to your house)!
Now on to our Pico de Gallo!!!
Ingredients: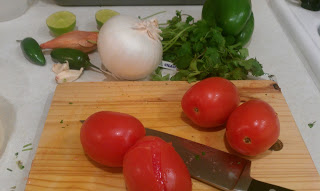 4 Medium Tomatoes
1/2 White Onion
1/2 Bundle of Cilantro
1 Green Bell pepper
1 Jalapeno
1 tsp Sea Salt
1/2 tsp Ground Red Pepper (optional)
Just a dash of Cumen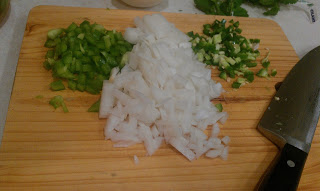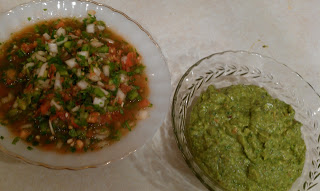 This preparation is sooo easy! Just chop all vegetables with a knife and mix them up. Don't mince these ingredients in a food processor as Pico de Gallo is a traditionally chunky salsa not your average salsa where the ingredients are minced.