If you have a grill and you'd like a quick dinner, I would totally recommend these! They're a tasty way to cook your meat and your veggies fast!
Ingredients: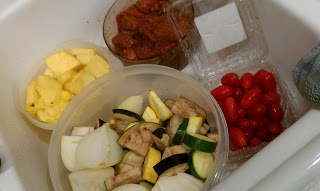 1lb Extra Lean Beef Stew Meat
1lb Extra Lean Chicken Breasts
2 Zucchini
2 Yellow Squash
1 Carton Grape Tomatoes
1 Eggplant
1 White Onion
1 Medium Pineapple
1 Package of Wooden Skewers
Balsamic Vinegarette
Seasoning:
Lawry's Seasoned Salt
Ground Red Pepper
1 Tablespoon Lea & Perrins Worcestershire Sauce
McCormick Grill Mates BBQ Seasoning
Sweet Mesquite Seasoning
Garlic & Herb Seasoning
If you have the time, marinate your meat with the seasoned salt, red pepper, worcestershire sauce, BBQ, sweet mesquite, and garlic and herb seasonings and marinate your vegetables in the balsamic vinegarette the night before to make your meat and veggies more flavorful. However, this step is optional.
After marinating the meat and vegetables, place the meat and vegetables on skewers. Place each piece of beef and chicken between onion and pineapple.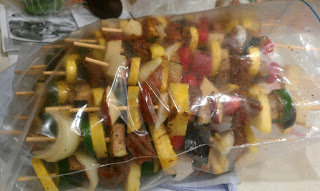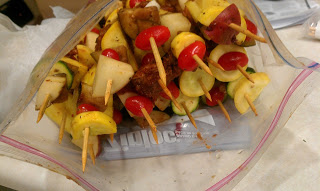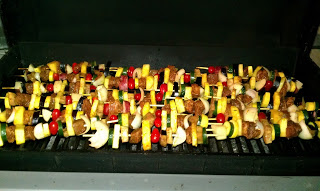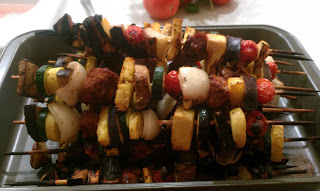 Grill your kabob's over medium heat on your choice of an outdoor or indoor grill. The kabobs only need to cook for about 20 minutes when the chicken is done and the beef is still tender (medium) and not tough and dry. I attempted to use a little red potato, but it didnt cook fast enough on the inside and ended up burning on the outside. In conclusion, I would not recommend putting potato on the kabobs.
But, potato or not… They were delish!