So, here's a family favorite! Our signature Sour Cream Pound Cake with Cream Cheese Frosting! Every year a family member makes their version of it; sometimes with nuts, sometimes with lemon frosting or a glaze, and sometimes with neither. This year it was our turn and we made it our own!
Ingredients:
1 lb softened butter
1 cup sour cream
3 cups sugar
3 cups flour
½ teaspoon baking soda
1 teaspoon salt
6 eggs
Extract (this will determine the flavor of your cake. In this recipe we used about a teaspoon of vanilla. If you prefer a different flavor you can mix in a teaspoon of lemon extract for a traditional lemon pound cake flavor.)
First, cream the butter until creamy then add the sugar. You always want to cream the butter alone, first, then add the sugar and mix together until really creamy about 20 minutes on the second speed of the mixer. Throughout the mixing process, scrape the down the sides of the mixing bowl with a spatula to ensure all ingredients are evenly incorporated.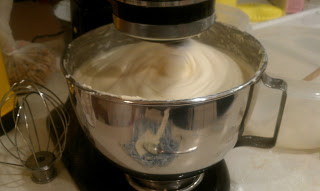 While creaming your butter and sugar, sift your dry ingredients at least 5 times. Once dry ingredients are sifted, set it aside. Add eggs one at time into your mixer with the creamed butter and sugar and continue to mix your ingredients on a low-medium (1 or 2) speed. After the eggs have been added, add the extract of your choice. Now, start adding the sifted dry ingredients and sour cream, alternatively, ending with the dry ingredients.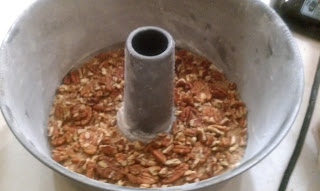 Butter and flour your cake pan while the mixing the ingredients to prevent the cake from sticking to the pan. Optional: Put brown sugar and nuts (pecans or walnuts) crumbled and whole in the bottom of the cake pan.
Continue to beat the cake mixture on speed 1 or 2 until everything is evenly mixed and the texture is smooth and silky. Pour your ingredients in the cake pan and bake at 350 for 1 hour. Toward the end of the baking time, use a wooden skewer to test the cake to ensure that the cake is done. You'll know your cake is ready when the skewer comes out clean.
While the cake is in the oven, let's go ahead and make the Cream Cheese Frosting A.K.A. the Pièce de résistance!!!
Ingredients:
1 stick of unsalted, softened butter
8 oz. pkg. of softened Philadelphia cream cheese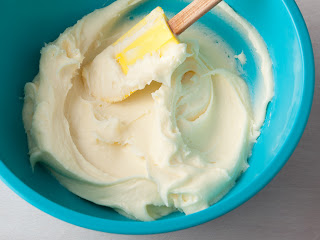 2 cups of confectioner sugar
1 teaspoon of vanilla extract
Cream the butter, first, then add the cream cheese. Mix together at medium speed until creamy. Turn your mixer down to the lowest speed and add the sugar a little at a time and continue mixing until creamy. Finally, add the vanilla extract and continue to beat on medium until the ingredients are evenly mixed and smooth.
When the cake is cool, evenly spread the frosting over the cake for the perfect Holiday Dessert!
Enjoy!