Personally, I just happen to be a fan of leeks and brussel sprouts as a delightful low carb combo! (Yea, I'm trying to drop a couple of pounds). So, I got my hands on a brussel stalk and a two leek stalks and got cookin'!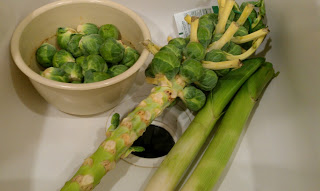 Ingredients:
1 Brussel Stalk
2 Leek Stalks
1/2 cup Vegetable Broth
1 tsp Sea Salt
1 tsp Pepper
House Blend Seasoning
Preparation:
So, first things first, cut the green top from the leek stalks. (Now you may not always want to immediately throw these things away because they can be used with carrots, celery root, and other veggies to make a Demi Glace for chicken or cornish hens.) We, then, cut the leek stalks down the middle so that we can open the many layers and really clean in there! Put the open stalks under running water to, thoroughly, clean.
Once we have those all cleaned, we want to chop the leeks into strips (or larger pieces if you prefer to eat them like sauteed spinach or whatever you prefer. After the leeks are cleaned, the leeks, grab your brussel stalk and just pop the sprouts right off. There's no need to cut them off because they will easily break away from the stalk with minimal pressure. Once you've removed the sprouts from the stalk, wash them and throw your chopped leeks and sprouts into a medium sauce pan with olive oil over medium heat.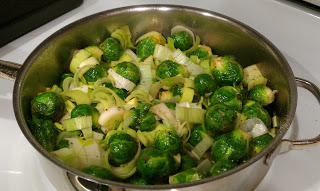 This is where we get a chance to use all of our seasoning! Dont be afraid to add all of the seasonings at once.
Ingredients for House Blend:
1 tsp Onion Powder
1 tsp Garlic Powder
1 tsp Seasoned Salt (of course we prefer Lawry's)
1 tsp Garlic & Herb Seasoning
1 tsp Cayenne Pepper
1 tsp Parsley
1 tsp Oregano
1 tsp Basil
1 tsp Thyme
1 tsp Paprika
Once we have everything in our sauce pan, give it a light stir and let it cook uncovered for about 5-7 minutes just to lightly sauteed the vegetables. Then, add about a 1/2 cup of chicken or vegetable broth to steam and give the veggies a little extra flavor. If neither of these are available, water is fine; but, it just doesn't taste the same. You should now cover, and let the veggies steam for about 10 minutes.
And your end result should be tasty and look just like this!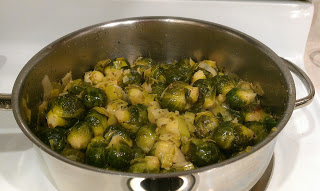 Fabulous!