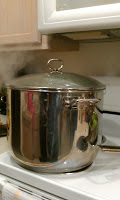 When I think of New Year's Day, I think of gumbo, champagne, and football!! My family and friends always look forward to that huge stockpot of seafood, sausage, chicken, and other deliciousness……Mmmmm……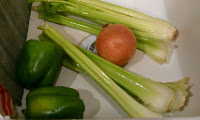 Ingredients:
2 – 3lbs jumbo shrimp (cleaned, shelled, deveined)
5 lbs crab (snow and king crab legs)
2 – 3 lbs imitation crab
2 pkgs. Hillshire Farms smoked turkey sausage
4 lbs chicken wings
3 stalks celery
1 large onion
2 medium bell peppers
2 -28 oz. large cans diced tomatoes
2 -16 oz. pkgs. frozen cut okra
6 garlic cloves
Burma Gumbo file
Seasonings:
House Blend
Parsley
Oregano
Basil
Thyme
Black pepper
Cayenne pepper
Bay leaves
Paprika
Lousianna hot sauce
Preparations: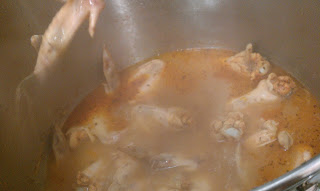 In a huge stockpot, add washed and seasoned (with house blend) chicken wings and add enough water to just cover the chicken. Boil the chicken wings to create a broth. Add all of the seasonings to taste.
Cook chicken wings until done, remove from the pot and set the wings to the side to be added back to the pot at the end.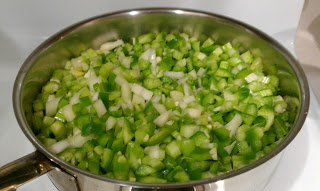 While chicken wings are boiling, saute the vegetables (celery, onion, and bell peppers) in a saucepan for 2 to 3 minutes.
After removing chicken, add the sauteed vegetables and the diced tomatoes to the broth. Cook for 10 to 15 minutes.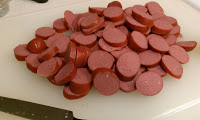 Add the seafood and sausage, cook until done about 15 to 20 minutes.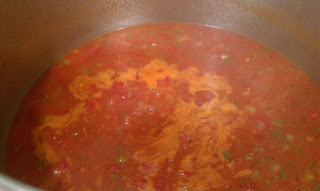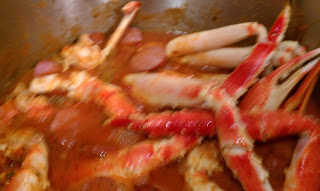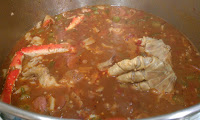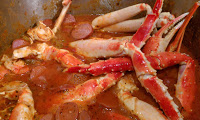 Add okra and cook until tender enough to chew. If there isn't enough room in the pot to stir in the okra, take out a few crab legs. When okra is done, add the chicken wings back to the pot and any crab legs that were removed in order to make room. Simmer until the chicken wings are warmed.
Add gumbo file before serving. Serve over white or brown rice.
Fabulous!