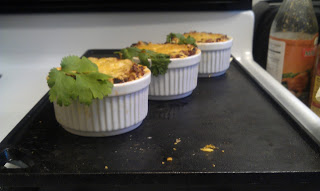 These were soooo good! Definitely worth the extra effort of getting out of bed a little early!
Ingredients:
1 stick butter
4 cups frozen hash browns
2 egg whites
Salt
Pepper
1/2 small red onion
1 small red bell pepper
4 oz chicken chorizo
3 oz cheddar cheese
Preparation:
Preheat your oven to 475 degrees. Coat 6 nonstick jumbo muffin cups with 1/2 teaspoon unsalted butter. in a large microwave safe bowl, melt 4 teaspoons butter. Add 4 cups frozen hash browns, thawed, and 2 egg whites; season with coarse salt and ground pepper and mix thoroughly. Place 1/2 cup mixture into east muffin cup, firmly pressing in the bottom and up the sides of each cup. Bake for 15 minutes.
Meanwhile, in a small nonstick skillet, melt 1/2 teaspoon butter over medium heat. Add 1/2 small red onion diced small, 1 small red bell pepper, stemmed, seeded and diced small and 4 ounces of chicken chorizo. Cook, stirring occasionally until onion is softened, about 7 minutes. Season with salt and pepper. Divide vegetable mixture evenly among cups and top with 3 ounces of cheddar, grated. Bake for 2 minutes.
Remove the muffin cups from the oven and crack 1 large egg into each cup. Season with salt and pepper and bake until whites are set and egg yolks are as desired, about 8-10 minutes. With a small offset spatula, remove cups from the pan and serve!