We know the purpose of our blog is to promote healthy eating, but sometimes you just need some good ol' fashioned Comfort Food!
Ingredients:
1 lb Bacon (we used Turkey Bacon of course)
2 lbs Medium Deveined Shrimp
1 32 oz. Medium Bag Frozen Corn
1 Cup Chopped Bell Pepper
2 Minced Jalapenos
2 32 oz. Cartons Heavy Cream
1 Cup Chopped Celery
5 Cloves Garlic
1 Cup Green Onion
1/2 Cup Yellow Onion
2 Sticks Unsalted Butter (plus a little extra to sautee shrimp)
For Fried Chicken:
2 lbs Boneless Skinless Chicken Breasts
4 Eggs
1/3 Cup Milk
1 Cup Louisiana Hot Sauce
2 Cups Flour
1 Tsp Red Pepper
Canola Oil For Frying
Creole House Blend
Preparation:
Your first steps are to cook your bacon and fry your chicken. Because there were two of us we could do both. To fry your chicken, you want to cut your chicken breasts into 1/2 inch squares. Once you do this, you want to create your egg, milk and hot sauce mixture! You will use this to dip your chicken before you coat it with a flour and cayenne pepper mixture. So you want to beat your eggs and milk until everything is thoroughly and even. Then add your hot sauce a little bit at a time, stirring constantly, until your mixture is a bright orange color. Now heat your cooking oil to about 350 degrees.
Season your chicken with about a tbsp and a half of our creole house blend (each piece should be evenly coated). Now that all your steps are ready, soak your chicken in the milk and egg mixture. Once your chicken is fully submerged, shake off excess liquid and drop each piece of chicken in the flour mixture, individually. Only add about 10 pieces to the bag of flour at a time, close and shake until your chicken is thoroughly coated. Once your oil is hot, drop your chicken in and let cook for about 8-10 minutes until it's golden brown.
Now, that the hard part is over, it's time to to chop and saute your vegetables in 2 sticks of butter in a very large pot! You don't to want brown your veggies, you just want cook them until they're soft. Add your corn, and cook until corn is almost done. Season your veggies with about a tbsp of the house blend.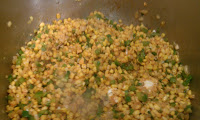 Now you want to lightly saute your shrimp IN BUTTER! You dont want to cook them long because they'll cook longer when added to the soup! But, while your shrimp are sauteing, go ahead, and add your heavy cream to your veggies and stir!
Once your shrimp are finished, add them to your soup, along with your crumbled or chopped bacon and fried chicken. Mix everything together, and taste your chowder to make sure it is nicely seasoned to taste with the creole house blend. if your chowder doesn't have a nice kick, you need to add more of the creole house blend.
Once everything is finished! Go ahead and pour yourself up a fabulous bowl of Maque Choux!